This case  which I wish to share with my patients and friends is amazing because of the unbelievable fast Cure achieved.
The lady, aged 57 came to consult me on 24.5.2016.for her Ulcer on her tongue, which by all accounts clinically, looked a Malignant Ulcer. Only that she did not agree for FIAT OR HP from the tissue of the growth itself, because of the fear it may do more harm. Nevertheless FNAC from enlarged  and indurated cervical lymph node was done which, though negative for Malignant cells, yet had all clinical features in its support. Seeing the features of the tongue Ulcer carefully I did not prefer myself to insist the patient for further histopathological examinations.
Her reports also suggested that she had bilateral Pulmonary Tuberculosis and suffered from Bronchiectasis too. She had a History of recurrent fever with chill. All these apart her main concern at the time she came for my consultation was this Ulcer on the tongue which was very painful and spreading fast going deep rapidly. I was a bit worried as not much of prescribing totality could be achieved. Only that the Ulcer was deep and looked " punched- out". With a bit of confidence I started with Kali bi 0/1.and advised to report after one week. Well, when she came to report I could not, simply, believe my eyes as the effect of the medicine was unbelievable. The photos when seen carefully will reveal the facts. I continued with Kali bi in ascending potency. The patient reported every week the progress of the recovery. Amazingly she got cured within 6 weeks only ( follow up on14.7.2016).Today the lady has no trace of the Ulcer left.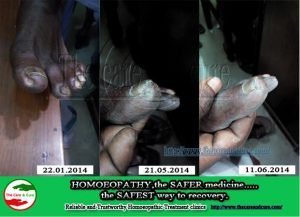 For Treatment