This 36 yr old lady had been under my treatment for multiple Lumbo-Sacral pathology including compression of the neural foramina along with severe pain in both of her lower limbs. She was suffering from trembling of extremities and body; she had hypertension too.
On 14/02/16, she came for consultation of Herpes Zoster affecting her Right infra-scapular and Right infra-mammary region. She had symptoms common to Herpes Zoster, such as pain, burning etc. She was given medicine for one week.
Then she came to report on 21/02/16, much relieved as is evident from the photographs.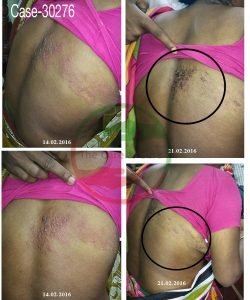 For Treatment